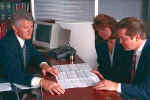 $wissIncome offers you an easy way to set up immediately with your
an investment account in Switzerland for your savings.
If you don't want to use VISA, you can also open your account by us with a normal bank transfer.
Please note that any account by us should be open for a minimum of 10 months. However exceptions may apply.
We encourage a safe long term investment strategy tru a small selection of global funds with different level of risk from the UBS ( Union Bank of Switzerland), We are not a on-line discount broker.
To avoid higher managemt costs we suggest you to always have some cash flow in your account to pay the annual fee or to place buy/sell orders.